Post Liberation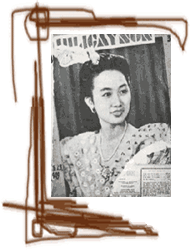 After the atrocities of the Japanese and World War II in general, Manila was freed on February 3, 1945. At that time came a rapid proliferation of publications with most of them simply printed like flyers or in single-sheets. Manila Free Philippines became the first post-Liberation newspaper published by the US Office of War Information. The paper circulated from February - September 1945.
Some of the periodicals closed by the Japanese made comebacks but those used for propaganda one by one perished. Those that disappeared included Philippine Liberty News by Manuel F. Manahan, Manila Post edited by Abelardo Subido and wife Trinidad Tarrosa-Subido,Manila Tribune edited by Vicente Albino-Pacis and a
certain Morning Sun.
Those that were revived included The Manila Bulletin, further developed in 1947, Philippines Herald, Manila Chronicle, started as "The People's Newspaper" and was later bought by Eugenio Lopez in 1947 and Manila Times, re-established by the Roces family. Likewise, Ramon Roces, son of Don Alejandro, also put out Manila's first afternoon newspaper called Evening News. Furthermore, his Graphic, renamed as Kislap-Graphic, Liwayway and vernacular sister publications: Bisaya, Bannawag and Hiligaynon were also re-launched.