Contemporary Roces Progenies

Sylvia Roces Montilla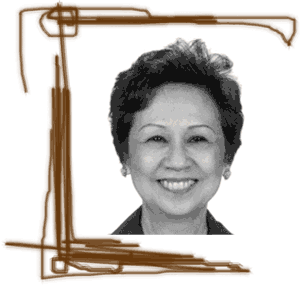 "We are an ideal family to go into (journalism) because we are not tentacled with other things but the way the game of journalism is now…we had…distanced…it's too politically powered already," says Sylvia Roces Montilla, a third generation Roces descendant.

Born on the 31st of January 1938, Sylvia is the daughter of Rafael "Liling" Roces, a pre-war columnist and World War II guerilla, and Leonor Varona (currently married to Aurelio Montinola, Sr.). She is the elder sister to Village Voice president, Antonio "Tony" Roces. She married Augustin Montilla III and had three sons: Augustin IV, Rafael and Miguel.

Sylvia finished elementary and high school at Maryknoll College (presently Miriam College). Then she went to Spain for two years and studied Humanities at the Universidad Central of Madrid. When she came back to the Philippines, she enrolled at the University of Santo Tomas.
She took up Philosophy and Letters and graduated Magna cum Laude. Also at one time she went to California and was a student at the Academy of Arts in San Francisco.

Her career in print media started when she got involved in her uncle Ramon Roces' publications. She had handled several positions in his group of magazines. She became editor, art director and columnist. She also had worked with cousin Elena Roces-Guerrero, daughter of Don Ramon, who came up with a comics magazine called Akda. The publication featured Tagalog translations of world literature which were illustrated by several great artists like Manansala, Alfredo Roces (another uncle), Fernando Ocampo, Arturo Luz and others. Her work with the company that time had not been an easy load, according to her, "…my exposure to publishing is not this idealistic graduate who will make a short story and then she'll be recognized and all that. Nasubsob ako right away to cover areas because there was this magazine that was coming out every week or every month…" However, she adds, "…I really love (working in publishing). I was inspired by my grandfather and my father who were actually the writers in the whole Roces clan…"

Aside from the magazines, she also became president of an advertising and public relations company called Mass Promotions during pre-Martial Law period. It was a PR firm which served the Cultural Center of the Philippines and other top Filipino corporations. Furthermore, she narrates, "It was very nice (working for the company) but then afterwards you realize,
especially through advertising…, that you play around with the truth…you present something that is sugar-coated, that's not true…Then you realize words, words, words for what?"

Currently, she is the editor-in-chief of the community paper, Village Voice, and magazine, Design and Architecture. For Sylvia, the later publication is more of a task that she does as a hobby and not necessarily for money. Moreover, she says, "I don't know if this (Design and Architecture) will fold up but…for me as long as the project is good I'll stand by it…" Another thing she is busy with is book production with her uncle, Alfredo Roces. They had produced several books such as 'Hidalgo', Nick Joaquin's 'FEU: The Culture Hero' and her father's book, 'Looking for Liling'.

Likewise, Sylvia is active in several organizations. She is co-founder and director of the RDA, Philippines (Riding for the Disabled foundation); Ang Arko ng Pilipinas' first community of handicapped persons and volunteer assistants Community Council director and president of The Learning Center, which is a school for special children.

She is also a co-founder and CEO of the first art gallery in Bacolod City called Galeria Buglas and several family business corporations.

Besides her numerous achievements, Sylvia expresses much pride to the heritage of her Roces clan. She recognizes her grandparents, Rafael Filomeno Roces and Inocencia Reyes, as the people who left them the legacy of simple joys and pleasures and contentment in life. Admiring her
grandfather and his word, she narrates, "…he had many chances to be so glorious…(but)…what he always say (is), 'I never want to be so high that people cannot reach me. I don't want to be so low either that they will step on me nor would I like anyone to be in that position.'"

For the new breed of journalists Sylvia shares her experiences and lessons saying that, "…writing editorial has made me…disciplined because…the problem…when you have many interest…writing (becomes) once in a blue moon or when you feel (in the) mood…and that's not true because hardly will you be inspired unless you sit down, blank in front of the computer…it won't turn up by itself…" Furthermore, she adds, "…deadline keeps you discipline…it's good in life to have that…" Lastly, she emphasizes, "…unless you are solid that you cannot be bugged down by financial problems then you cannot deliver the truth as you would like to because you get muffled by (your) own lack of money."
(READ FULL INTERVIEW TRANSCRIPTION)